Free Quote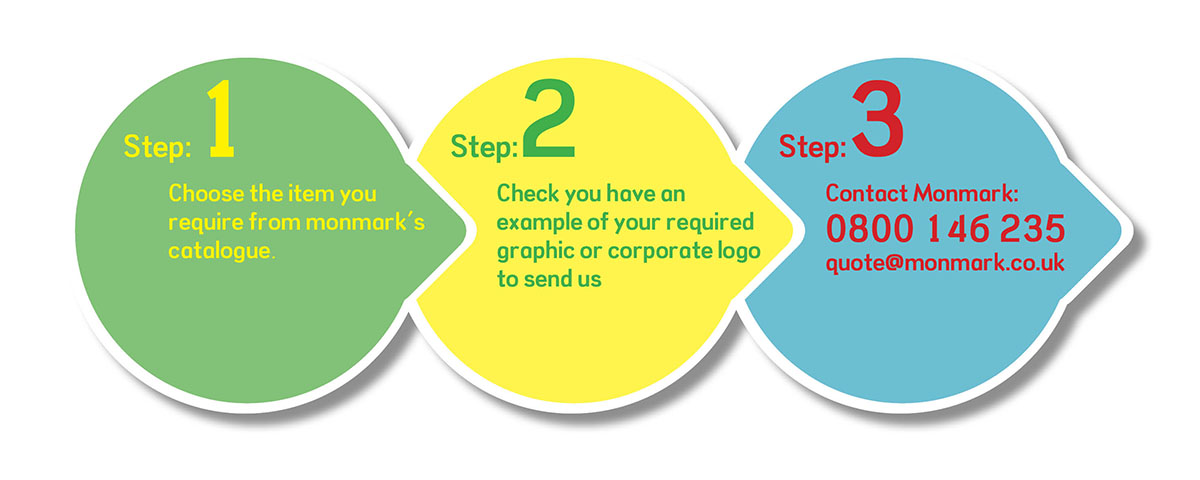 Is the service really free?
Yes, there is no obligation behind our advise and quote service. No pressure, friendly advice. FREE!
How do I know which garment is best for me?
Monmark's catalogue is full of garments and accessories that are fit-for-purpose for any uniform or corporate branding exercise. If you're not sure what's best, use the Monmark recommended garments page to guide you to a durable, high quality, great value solution. Or call us on: 0800 146 235.
How long does my order take?
Once we've guided you through the quote process, you'll receive proof artwork to assure your happy with the proposed garment solution. Once you've approved the proof it's only 10 working days before you'll receive your order.
How do I submit my Corporate ID for embellishment?
Artwork is best submitted in an adaptable EPS format. Though our design team can work from Jpegs, Tiffs, PNG's PSD file format, or even the back of a beer mat! Set-up and design service's are available from Free to £60 per hour for a bespoke service. An average bespoke design takes 4 hours to conceive and set-up. Free consultation will be given on initial contact to advise of likely overall cost.
How do I pay?
If it's your first order, you'll need to pay upfront via Bank Transfer, Credit Card or Cheque. Once your initial order has been completed, you can apply for an account to make ordering and dispatch easier. Account holder's orders are dispatched as soon as production is complete, Invoice at point of dispatch, payment under 30 day terms and conditions. Account application would be considered after completing the appropriate account set-up request form and having passed a standard credit check and reference process. Once set-up, your goods can be dispatched without delay. If you wish to learn more please contact any of our Team on 0800 146 235 to discuss.
What if I'm in a real hurry... Urgent orders?
Don't panic, Monmark have priority production slots available for those must have situations. Prices start from as little as £10. If you're in a rush, let us take up the pace.
What if I only need a small volume?
No problem, there is no minimal order requirement, however a small order fee of £15 is applicable in some rare cases.
What if my orders is very large?
Even better for you. The bigger an order, the better the buying power and Monmark pass this saving on. We have the in-house production capacity to handle orders from 10 - 10,000 garments, enabling us to control quality and time-line more effectively. You're in safe hands.
What if I'm unsure about anything?